Box Type Gabions
Box type gabions are galvanized double twisted hexagonal woven mesh with a rectangular box shape. The compartments or cells are of equal size and dimension and are formed by internal diaphragms being placed within the basket. The compartments or cells are filled with natural stone and the diaphragms minimize stone migration within the basket providing even distribution of the stone fill throughout the basket even after structural movement. The gabion box strength comes from a double twisted hexagonal mesh of steel wire which is reinforced by selvedge of heavier gauge wire running along the edges and by transverse internal diaphragms at 1m centers.
Materials: low carbon steel wire, galvanized wire and PVC coated wire
Installation
Gabion box shall be assembled individually and placed on the surface to the lines, with the position of all creases and that the tops of all sides are boxes shall be properly staggered horizontally and vertically according to the construction requirement. Finished gabion products shall have no gaps along the perimeter of the contact surfaces between adjoining units. All adjoining empty gabion units shall be connected along the perimeter of their contact surfaces in order to obtain a monolithic structure. All lacing wire terminals shall be securely fastened. All joining shall be made through selvedge-selvedge or selvedge-edge wire connection; mesh-mesh wire connection is prohibited except in the case where baskets are offset or stacked and selvedge-mesh or mesh-mesh wire connection would be necessary. As a minimum, a fastener shall be installed at each mesh opening at the location where mesh wire meets selvedge or edge wire.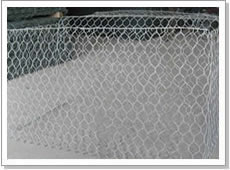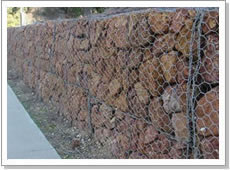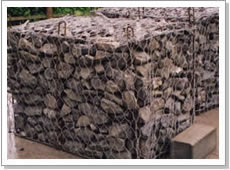 Applications:
1. Widely used in many fields, including agriculture, industry and construction fields
2. Control and guide water or flood
3. Protect bridge, bank, seaside area, coastal embankment works, roadway and soil
4. Strengthen the structure of soil and retaining wall structure
Specifications of Gabion Box

Opening
(mm)

Wire Diameter (Metal Wire)
(mm)

Wire Diameter (PVC Coated)/
Inner/Outside(mm)

Strands

60X80

2.0-2.8

2.0/3.0-2.5/3.5

3

80X100

2.0-3.2

2.0/3.0-2.8/3.8

3

80X120

2.0-3.2

2.0/3.0-2.8/3.8

3

100X120

2.0-3.4

2.0/3.0-2.8/3.8

3

100X150

2.0-3.4

2.0/3.0-2.8/3.8

3

120X150

2.0-4.0

2.0/3.0-3.0/4.0

3